Well I'm always amazed with new ideas MAM come up with I'm been so excited to get the Self sterilising bottle, the amount of times ive been stuck because I've ran out of clean bottles. Milk on the go is so much easier to pick up than a clean bottle.
So how does the self-sterilising work? You unscrew the bottom, put in some water (20ml that you can measure out with the nifty measuring cup in the cap), put the teat and ring on the base, place the bottle components back on top of the base (without screwing them on), place the cap on the top and zap it in the microwave for a few minutes. These would be super great to if your going away and didn't want to take a bulky sterilizer.
Its also anti-colic , the base ventilation is designed ensure a smooth flow, so your baby doesn't swallow air. The extra-soft MAM teat is meant to make switching between breast and bottle easier too.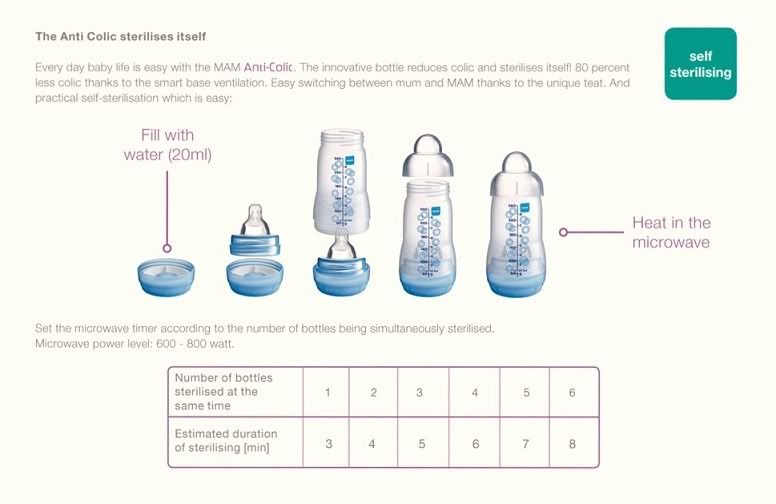 The bottle can be purchased as a single pack (in pink, blue or green) for £4.29 for 130ml size, £4.49 for 160ml size and £4.99 for 260ml. You can also buy packs of three, at £12.49 for the 160ml size and £13.99 for the 260ml size.
The design and idea are fantasic ive already used it a few times, and Lexie seems to like the teat shape too.
Please check out
http://mamonlineshop.com/
for the designs and packs